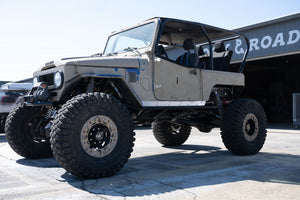 FJ40 Suspension Build #2 After Pics
FJ40 Build #2 AFTER
See before pics here.
Overall vehicle specs:
Chevy 350
NV4500 Transmission
Atlas 2 Speed transfer case
Solid high pinon dana 60 rear axle
Kingpin Chevy low piñon dana 60 front axle
40" Maxix Creepy Crawlers tires

Here's what we did:
Removed 4' of the frame in front and 4' in back and replaced with tubular frame (2" 120 wall in front and 1.75" 120 wall in rear)
Motor mounts
Transmission mount
Beefy trusses front and rear
Full hydraulic steering behind the axle
Front and rear double triangulated 4 link set up with custom crossmembers and link tabs
14" 2.0 Fox coilovers
ADS bump stops (added later)
Antirock swaybar
This is a similar build to the last classic FJ40 that came in the shop. Take a look here.
Since finishing the build, the customer has taken it wheeling and says it drives itself. He went from back of the pack to leading the pack!
---