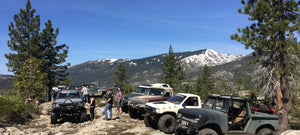 Fordyce Day Trippin' – April 17, 2016
It's been quite a while since we made it up to the mountains for a wheeling trip. Work & life just kinda gets in the way sometimes. But this past Sunday, my wife, Karly and I (Greg) got to escape to Fordyce with a bunch of rigs from Rigs on the Rocks (https://www.facebook.com/groups/rigsontherocks/). If you are in the NorCal area, feel free to join that group. We all post about upcoming wheeling trips and parts/vehicles for sale or trade!
It was an easy going trail ride with no major break downs, rollovers, or obstacles, but it was exciting none the less. It's always great to talk truck stuff with like minded people! We had such a wide variety of rigs show up this weekend, from an International Harvester Scout 800 to a turbo charged Buggy to Jeep Tjs, 4Runners & even a Jeep Pickup in the bunch. The weather was perfect, but not much snow is left up there.
Be sure to watch our video of the ride BELOW & check out all the pics! Be sure to leave us a comment with any questions or thoughts!
See ya on the trail!

---