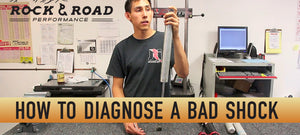 Subscribe to our YouTube Channel
We have a brand spankin' NEW YouTube Channel. Give it some love by Subscribing!
Our first video is up: "How to Diagnose a Bad Shock". Here TJ discusses the signs of a worn shock and the key differences between shocks available on the market today. You will learn how to tell if your shocks are worn and not functioning correctly.
Don't forget to hit the "Thumbs up" button, share, & subscribe.
---