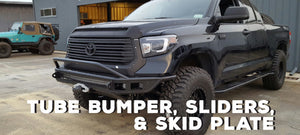 Tundra Tube Bumper, Sliders, Skid Plate
It's been awhile since we updated you on what's been happening in the shop. Someday we will give you a tour of our new shop in Loomis, CA, but for now check out our most recent project. This customer brought us a 2015 Toyota Tundra to beef up. His to do list: sliders, tube bumper with winch, & skid plate. First up are the sliders made of 1 3/4" DOM tube with expanded metal over top. The customer lives where it snows, so the expanded metal allows him to stomp off the snow and reduce slipping on the tube. These definitely add extra protection to the body when driving off-road. You can see the progress shots below as well as the finished project!
Next we built a custom front tube bumper with a stinger and metal shield that houses a 12,000 lb Smitty Built X2O winch as well as a 40" LED light bar. There are also plate cutouts for 2 LED Spot lights & 2 LED Fog lights. He's all set to light up the whole trail for a little night wheeling!
Finally, we added a 1 3/4" tubular skeleton on the belly with 1/2" UHMW sheet over top. If you haven't already seen this stuff, you want to make sure and check it out! It's perfect for skid plates and protective vehicle/ATV armor because it is light-weight, strong, durable, self-lubricating, and allows you to slide right over rocks while off-roading.
To wrap up this off-road built, we installed ADS 2.5" 3-tube bypass shocks in the rear and 2.5" ADS coil overs with remove reservoirs and compression adjustments in the front. This will give the customer maximum tune-ability for best driving quality on or off-road. We're loving how mean & clean this Tundra is now. Let us know if you have any questions on this build! We'd love to hear your thoughts! -Team Rock and Road
photos by Tim Hallam Photography
---