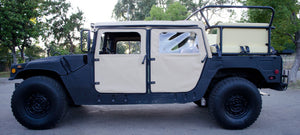 Humvee Overhaul PART 2
If you haven't already, go on and check out the
BEFORE
and PROGRESS shots of this build over on
PART 1
on the blog! Drum roll please....take a peak at the finished Humvee Overhaul Project! So many fun new features were added to this old military Humvee in order to make it the perfect Ranch rig & adventure mobile. We are assuming many memories and excursions will take place in this vehicle; it' s got it all! After viewing this short video, take a look at the detailed photos below. When this arrived at the shop all of the original seats were worn and torn and there was no top or doors on the truck. The owner brought us a brand new tan soft top, matching doors, and 4 bucket seats to install.
Greg built some pretty awesome aluminum speaker cans that house four
Boss speakers
, one pointing to each seat. It took a couple tries to get the angles of the box to line up when welding, but eventually it turned out great!
He also fabbed up a neat little controller box to house the
Boss audio
control pad. The additional accessories in the Humvee are aluminum as an ode to match the whole aluminum body of the Humvee. This makes the vehicle so lightweight that in the military they are able to drop them out of planes with a parachute...pretty incredible
A trio of patriotic switches were added to the dash board: one for the new light bar, one for the audio, and an extra for any additional accessories in the future.
This little aluminum box is tucked away under the passenger and was made to hold the battery disconnect switch. The Humvee runs on 24v so there are two batteries.
You can see below a new grab bar spanning the width of the Humvee. This gives a little more safety and security to the rear passengers on a bumpy ride. Our custom kiddo seat fits perfectly right in the rear.
The new home of this Humvee is a private ranch with lots of space to roam and play. Our customer is an avid hunter and had us mount a handful of gun mounts throughout the rig to have easy access and added security for their guns.
Even an ammo box was installed for additional storage, which matches the military themed vehicle.
The rear of the Humvee was a huge undertaking, but we think we pulled it off well. A large custom rack with two bench seats fits perfectly into the bed of the truck. In
PART 1
  you can see the large undertaking and how this tube work and seats came together. All the tube work was designed on our CAD computer program, then hand bent with our tube bender.
The tube is tied into the bumper of the Humvee. You can see the custom seat belt tabs we installed as well. These two rear benches in addition to all of the interior seating adds up to a told amount of seat for 9-10 people! What a ride that would be, lots of memories for sure.
You can see the top bar of the rack is a brush guard while driving and gun rest when standing in the bed and aiming at targets.
So many other little gadgets were added to make this Humvee truly unique, one-of-a-kind and tailored to the owners. We mounted a light bar, fishing rod holders, and hinging steps all will add more ease and mobility while on an adventure.
Our first try at bead rolling came out pretty well, we thought. We made two cooler holders for the rear, all you have to do is bungee them in place.
All in all this project was a huge undertaking. Quite a bit of labor went into this rig, but we were more than pleased with how it turned out. We wish we could take this Humvee out to play! What is your favorite feature of the Humvee? We'd love to hear all of your comments!
---